Le Cube au Carré, Verviers.
Array of Sketches, La Vie en Rose.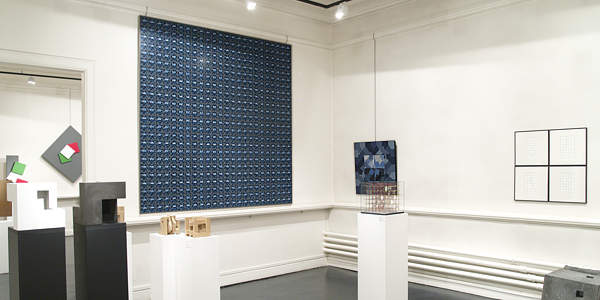 576 Encounters of 'Edith Piaf' and 'Miles Davis'. Digital print on aluminium 244x244cm.
La Vie en Rose. Acrylics on canvas 80x80cm.
Du 16 février au 27 avril 2008. Musée des Beaux-Arts de la Ville de Verviers.
My participation in this kaleidoscopic cornucopia of cubes and other geometrical is an Array of Sketches, which is a presentation of all digital sketches for an Ecounter of Names, and one of the subsequent realization on canvas.
Organisation :
Les Amis du Musée de Verviers, Bob Van Der Auwera.
Practical information :
invitation
www.verviers.be/cube
Publication :
A 216 pages catalog, 15 euros.


If you come by train, you wil be treated, in the RR station, to a vast celebration of the rectilinear logic of stone and brick. This gave me the motif for my current opening page.